CD Review

Aquarela's review – exclaim!
By David Dacks
Luanda Jones is a highly respected vocalist and guitarist around Toronto, ON who specializes in bossa nova and jazz. Aquarela, her debut, is quietly ambitious. If the expectation is some new-school combination of breathy vocals and breezy electronic beats, you won't find it here. Rather, it's a mix of low-key experimentation and well-crafted balladry with only a modest quantity of Brazilian samba signifiers.
Thanks to Nicholas Murray's (Lal) intimate productions, the focus is on Jones's voice and acoustic guitar throughout. Ian De Souza's bass-generated electronics and Jones's impressionistic vocals complement the title track's circular chord sequence, and a duet dynamic is the key to many tracks. Rarely does the band kick in, more often the music features interesting accompaniment, from accordion to matchbox to shoe-cussion (courtesy of Woodchoppers Association's Dave Clark), all of which make an intricate soundscape. When rhythms kick in, they don't take the songs to a more danceable level, but they are well sculpted.
This music will hopefully find a home among the jazz vocal crowd and those looking for new directions in Canadian singer-songwriters. (Independent)
Interview
Live on Q with Jian Ghomeshi
Listen here the podcast of the show Q, recorded live on the CBC radio 1 (99.1) hosted by Jian Ghomeshi.
Concerts On Demand (CBC Radio 2)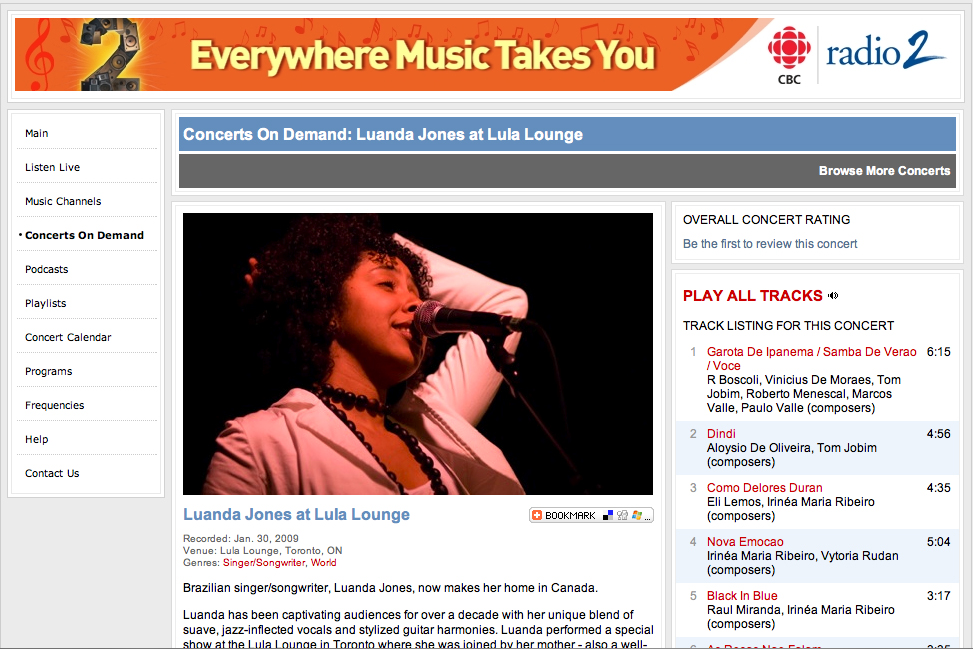 Luanda performed a special show at the Lula Lounge in Toronto where she
was joined by her mother – also a well-known Brazilian composer/musician
Irinéa Maria Ribeiro. Listen here : http://www.cbc.ca/