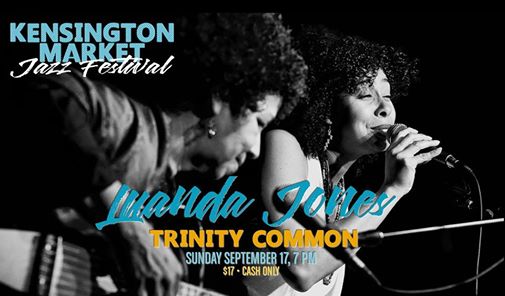 Luanda Jones and Irinéa Maria Ribeiro Quintet at Kensington Jazz Festival
Luanda Jones at Trinity Common features touring Brazilian jazz superstar Irinéa Maria Ribeiro on guitar and vocals, Gord Sheard on piano, Paco Luviano on bass, Alan Hetherington on drums and Luanda Jones (voice). Come and check the last concert of Irinéa and Luanda in Toronto- mom and daughter singing together- before Irinéa comes back to Rio de Janeiro.
About Irinéa Maria Ribeiro
As a monumental celebration of her successful and incredibly storied career, Ribeiro entered the studio with a number of her fellow singers and musicians to record 50 Years of Song, her first album of original compositions in her five decades in music. The 15-track collection, written and performed by the Rio de Janeiro native presents a varied selection of songs representing the musical diversity of Brazil's MPB sceneAs a songwriter, producer, and music director, Irinéa Maria has been a fixture in the Brazilian music since the boisterous early '60s.
Her music has been recorded by a notable roster of influential artists and musicians including Zezé Motta, Tim Maia, Sandra de Sá, Maria Creuza, Cauby Peixoto, Jane Duboc, and many others. 50 Years of Song calls on the talents of an equally esteemed list of musicians anyone would be honored to have with them in the studio including Kiko Continentino, Itamar Assiere, Antonio Adolfo, Fernando Merlino, Rômulo Gomes, Marcio Iacovo, Max Dias, Jorge Roberto Martins, Célio Balona, and Jean Charneax.
"Irinéa Maria Ribeiro is a fantastic songwriter, vocalist, and guitarist in the classic Brazilian popular music tradition (and the mother of Toronto resident, and my friend and colleague, Luanda Jones). Irinéa came of age during the bossa nova era at the epicentre of the explosion of the new music, Copacabana, studying guitar with Bossa great Roberto Menescal (composer of "Little Boat" aka "O Barquinho"). Since then she has written many songs that have been covered by top Brazilian artists. She's only now, at the age of 70, releasing her first album as a solo artist. Having listened to the music and performed it with Irinéa, I can unreservedly say it's like discovering a lost masterpiece of Brazilian song, beautiful and very sophisticated on all levels, melodic, harmonic, and lyric."
Gordon Sheard, PhD in Ethnomusicology Department Head, Humber College, Toronto
Details
Trinity Common ( Map)
303 Augusta Ave, Toronto, Ontario M5T2M2
Sept 17th, 7pm (1 set )
$17 ( cash only)