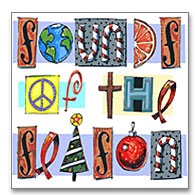 This Friday (Dec 4th) I'll be presenting a few of the songs from the record live on the CBC radio 1 (99.1)  show Big City Small World, hosted by Garvia Bailey, airing between 9-10am. Join us!
Sounds of the Season
December 4, 2009
Please join your favourite CBC personalities for a day of FREE live on-air programming at the Glenn Gould Theatre inside the Toronto Broadcasting Centre, on Friday, December 4th, 2009. Come out and help us support local food banks while watching live broadcasts of Metro Morning, Here & Now, Big City Small World, and Fresh Air starting at 5:30 am.
Last year we raised over 8,500 pounds of food and more than $300,000 in support of the Daily Bread Food Bank.
Help us help others this year as we raise funds and collect donations for local food banks across the Greater Toronto Area.
Sounds of the Season food bins are located at every entrance of the CBC and are available now!
All donations will be collected up until December 31st.
Ways to donate to Sounds of the Season:- Drop by the CBC (250 Front Street West) with your food donations and look for the food bins at each of the entrances.
– Join us on December 4th and make an in-person donation while enjoying our live on-air programming
– Call the donation hotline at 416-203-0050.
– Donate online at End Hunger