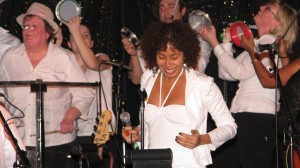 Featuring special guest vocalists Luanda Jones,
Lester McClean and Andrea Dia
Samba Squad gathers diverse global influences and drops them in a seething cauldron to produce raw, vibrant and drum-heavy original compositions that rock the New Canadian Songbook. Rick Lazar has put together this special night of both new compositions and originals from Samba Squad's well-loved repertoire – with some funked-up covers of traditional pieces thrown in for good measure. Featuring emerging Brazilian singer/songwriter Luanda Jones.
Lula Lounge
1585 Dundas Street West (Map)
Toronto
(416) 588-0307
7pm doors | 10pm show
tickets $13 advance | $15 at the door